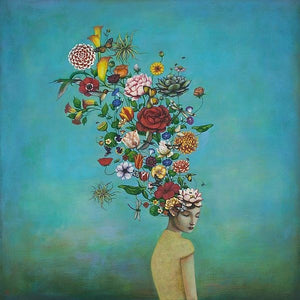 A Mindful Garden 50x50cm canvas print by Duy Huynh. 
International Artist
Duy Huynh (Pronounced Yee Win)
Born in Vietnam, my family and I came to the United States as refugees in 1981. At the time, we were commonly referred to as "boat people", a moniker that I've often drawn inspiration from. Despite the challenges of assimilation and an enduring sense of displacement, growing up in southern California proved to be a transformative chapter in my life. My first introduction to art came in the form of murals, graffiti, comic books and animation. In numerous attempts to create my own heroic characters, I developed a passion for drawing. I still think it's magical what one can do with just a pencil and paper. More importantly for a kid that felt like an outcast, drawing became a means of transcending language barriers and cultivating connections.
This item is pick up only.