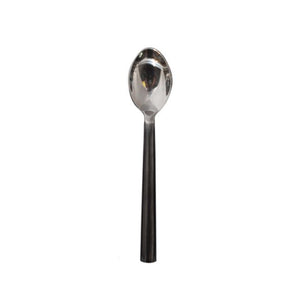 Our Black handle forged iron cutlery is a timeless French Country range that is superb quality and will give a lifetime of enjoyment. A contemporary yet robust design that is perfect for everyday modern living.
With a stainless steel base and high quality forged iron handle, each piece is shaped and polished by hand. Perfectly safe for the dishwasher, it will give endless years of use . All pieces sold individually, and so can be collected over time.
Wash before use. Dishwasher safe. We recommend care similar to that of plated cutlery; Do not leave wet for prolonged periods of time in dishwasher or kitchen rack, and dry thoroughly before putting away. Because of the unique forged iron finish (oxidization spots or rust) may occur if left wet. Should this occur we recommend wiping the handles with any vegetable oil to remove.
16cmLx3cmWx1.5cmH