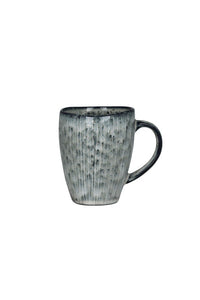 BROSTE Nordic Sea is the core and foundation of the Nordic tableware collections. This selection features a colour scale that captures the shades of the North Sea on a stormy day. This collection provides clear associations to crashing waves and foamy whitecaps, summing up the unpredictable ways of the northen seas. The unique look of each piece is achieved with a special glaze, which in the firing process develops a distinctive texture and colour. All our tableware are dishwasher safe up to 65 degrees celcius and microwave safe up to a maximum 675 W and maximum surface temperature of 56 degrees. Set of 6.
Made of stoneware. DIAM80 H100.
This item is pick up only.